CrossFit Allegiance – CrossFit
Our long time 5:30am member Justin Lincoln's son Mikey was diagnosed on August 24th, 2017 with acute myelogenous leukemia at 11 months old. Mikey will be in the hospital for the next few months while he goes through treatment. If you are interested in helping support Mikey and his family you can visit his gofundme page at
https://www.gofundme.com/fightamlformichaeljames
OR
We have t-shirts for sale for $20 at the front desk. Thank you for all your support!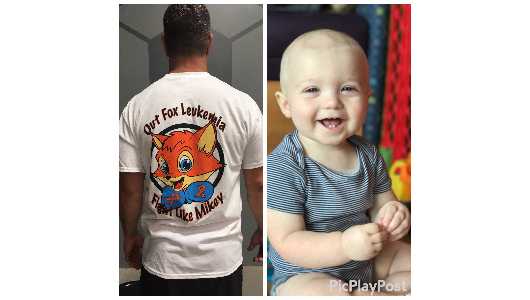 T-shirts to help support Mikey!
Gymnastics
Ring Muscle up test (AMRAP – Reps)
Ring MU

Max Set

1 attempt

ADV RX as Written

RX Bar MU

Scaled L1 C2B

Scaled L2 Pull-ups

Scaled L3 band Pull-ups
Unbroken
Metcon
Partner Eighteen Wheeler (AMRAP – Rounds and Reps)
AMRAP 20:

36/30 Calorie Row

30 Wall Balls (20/14)

24 Dumbbell Snatches (50/35)

18 T2B
ADV RX as Written

RX 35/20
Optional Extra Strength Work
Overhead Squat (Build to a Moderate Single 3 second pause)
Squat Snatch
On the Minute x 12 (3 Rounds total)

Minute 1 – 3 Reps @ 75%

Minute 2 – 2 Reps @ 80%

Minute 3 – 1 Rep @ 85%

Minute 4 – Rest
Back Squat
2 Rounds:

7 Reps @ 72%

5 Reps @ 76%

3 Reps @ 80%

Rest 2:00 between each set of squats